As businesses strive for greater efficiency and cost reduction, Memjet Printers emerge as a solution with their iJetColor by Printware Inkjets. Leveraging high-quality, affordable Memjet technology, these printers deliver swift and pristine prints, making them ideal for personalized envelopes, direct mail, and short-run letterhead. However, the role of inkjet cartridges in print quality cannot be overlooked.
Compatible inkjet cartridges, which utilize the same ink as OEM cartridges, provide a cost-effective and dependable alternative to costly brand-name options. Moreover, they often incorporate special additives that safeguard against fading and smudging while undergoing rigorous testing to ensure consistently high-quality output. This article delves into the features and advantages of Memjet Printers, including their industry-standard color-matching RIP. It highlights how compatible cartridges offer superb print quality at an affordable price point.
Memjet iJetColor Printer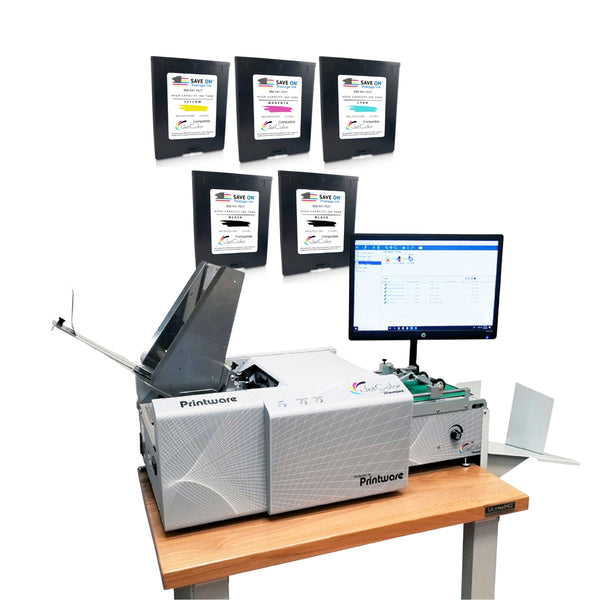 The Memjet iJetColor Printer is an exceptional solution for top-notch digital color printing. It offers a range of features that make it ideal for producing high-quality, personalized envelopes, direct mail, and letterheads at a remarkably low cost per piece. The printer incorporates the industry-standard iJetColor color-matching RIP and workflow, ensuring accurate color representation.
One of the key advantages of the iJetColor Printer is its impressive speed, capable of delivering up to 4,000 pieces per hour. It accommodates a feed width of up to 9.5" and can handle media with a thickness of up to 1/48". Thanks to its adjustable height control, this versatility allows businesses to efficiently print on various materials, including bubble packs, padded envelopes, corrugated sheets, and more.
Moreover, the iJetColor Printer is designed to minimize downtime and maintenance efforts. Its fail-proof performance is supported by a quick and hassle-free maintenance cycle, easy access to replacement parts, and front-loading ink cartridges. These user-friendly features contribute to a seamless printing experience, saving valuable time and resources for businesses.
In terms of cost-effectiveness, the iJetColor Printer proves to be a wise investment. With its low total cost of ownership, it can pay for itself in as little as 12 months. A single order of 4-color envelopes per day is enough to cover the printer's cost for a calendar year. Additionally, this printer offers enhanced profitability compared to traditional options, as it eliminates the need for high minimum orders and dedicated pressmen.
Features:
Memjet Color NXT technology

Top-notch, vibrant full-color printing with razor-sharp images

Remarkably cost-effective, surpassing traditional toner-based printers in operating expenses and overall ownership expenses

Capable of handling an extensive array of paper sizes and weights, even up to 160# / 430 grams

Seamless full-bleed printing on 8.5" x 11" stock

Energy-conscious and environmentally friendly, utilizing water-based inks without any particle emissions or unpleasant odors

User-friendly software interface for effortless print job management and variable data printing

Compact, space-saving design, perfectly suited for diverse office environments.

Versatile paper handling that has the ability to print on window envelopes

Swift variable data processing, ensuring enhanced productivity

Innovative rich black type button and ink-saving mode for exceptional print quality and reduced ink consumption.
Memjet iJetColor NXT Printer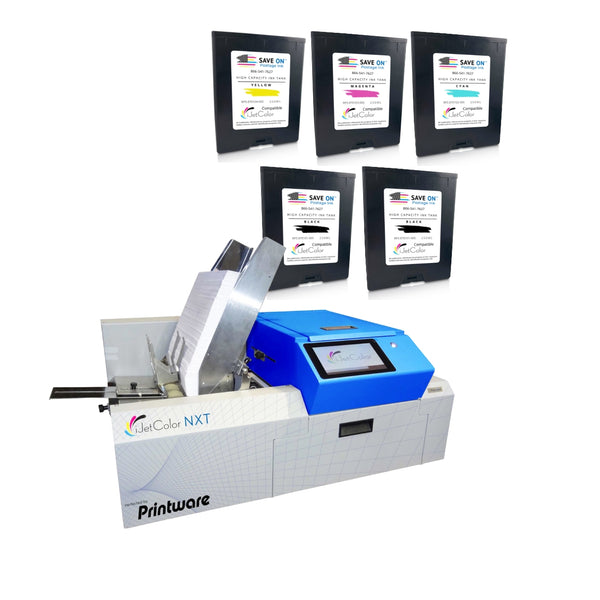 Introducing the Memjet iJetColor NXT Printer, a true game-changer in the world of printing solutions. This revolutionary printer offers an unbeatable combination of speed, quality, and cost-effectiveness, making it the top choice for envelope, direct mail, and letterhead printing.
With cutting-edge Memjet technology, the iJetColor NXT boasts a wider and flatter print path, ensuring flawless, full-color prints with stunning bleed effects. Say goodbye to dull and monotonous prints – this printer offers precise PMS color-matching, enabling vibrant and accurate color reproduction. It can effortlessly handle media up to 1/48" thick, providing unmatched flexibility in your printing tasks.
The iJetColor NXT's standout feature is its exceptional speed, producing over 6,000 #10 envelopes per hour. This unparalleled performance boosts productivity to new heights. Moreover, its adjustable height control lets you print on various materials like bubble packs and padded envelopes, expanding your printing possibilities. Moreover, its intelligent design incorporates failproof mechanisms, granting businesses peace of mind during printing operations.
The iJetColor NXT printer boasts efficient maintenance cycles, easy access to replacement parts, and user-friendly front-loading ink cartridges for quick and hassle-free replacements. This digital color print solution is a highly advantageous investment thanks to its exceptional performance and cost savings. Businesses can recover their investment in as little as a year, making it a smart choice for those seeking increased productivity and reduced expenses.
Features:
Enhanced printing capabilities ensure seamless full-bleed printing.

Experience remarkable efficiency with a high-speed output of over 6,000 #10 envelopes per hour.

Enjoy superior color printing with ColorBoost© paper profiles pre-installed, guaranteeing high-quality results.

Benefit from swift variable print capability, accommodating fast-paced printing requirements.

Easily adjust the speed shingle output conveyor to meet your specific needs.

This printer uses standard window envelopes and easily switches between different envelope sizes and types.

The one-touch job preview and processing feature simplifies operation and enhances user convenience.

Benefit from cost-effective printing, as the ink costs only half of what toner does, and the Digital Press click charge is reduced to one-fourth.

The printer has a clean and fast maintenance cycle, with readily accessible replacement parts.

Replacing ink cartridges is quick and efficient, thanks to the fast and easy front-loading design.

The integrated 7" touchscreen control panel enables swift job previewing and effortless control.

Streamline operations with the integration of iJetColor RIP and Workflow into the operator panel.

The printer can handle various envelope sizes, from as large as 10" x 17" to as small as 3" x 4", as well as other materials.
Experience professional-grade printing results with the iJetColor Black Memjet 250 ml Ink Tank. The iJetColor Press Performance Bundle is complemented by a specially designed ink tank that seamlessly integrates with the system. This unique ink tank guarantees outstanding image quality and consistent performance, even during high-speed printing.
It is formulated with cutting-edge dye colorants. This ink tank yields sharp, vibrant prints that will leave a lasting impression. Moreover, the ink is produced with extraordinary precision, boasting minimal impurities to maintain consistent quality and prolong the lifespan of the printhead.
With its user-friendly installation process and substantial ink capacity, the 250 ml tank effortlessly handles extensive printing tasks. Not to mention, its impressive yield translates to long-term cost savings on ink expenses. The iJetColor Black Memjet 250 ml Ink Tank is ideal for anyone seeking professional-level prints with their iJetColor printer.
Elevate your printing capabilities with the iJetColor Yellow Memjet 250 ml Ink Tank, designed to elevate your printing game when paired with the iJetColor Press Performance Bundle and NXT Printer. This exceptional pigment-based ink tank ensures that your prints are long-lasting and highly resistant to fading, even when exposed to various environmental factors.
With its impressive capacity of 250 ml, this ink tank provides exceptional value for your investment by greatly reducing the frequency of replacements. This ensures a more efficient and cost-effective printing experience, allowing you to focus on your tasks without the hassle of frequent cartridge changes. Its effortless installation process makes it a perfect fit for busy offices and printing shops, seamlessly compatible with the iJetColor Press Performance Bundle and NXT Printer.
Witness unparalleled output quality with high-definition precision and remarkable color accuracy, resulting in vibrant, sharp prints with every use. Opting for the iJetColor Yellow Memjet 250 ml Ink Tank is a strategic decision that can contribute to your business growth and enhance your overall printing output. Don't wait any longer; secure your Yellow Memjet 250 ml Ink Tank today and experience the transformative difference it can bring to your printing needs.
Enhance your printing experience with the iJetColor Magenta Memjet 250 ml Ink Tank, specially designed for the iJetColor Press Performance Bundle and NXT Printer. This top-notch ink tank ensures remarkable color and quality outputs that are both cost-efficient and visually appealing.
The ink's pigment-based formula guarantees long-lasting prints that can withstand environmental factors and resist fading over time. Its generous 250 ml capacity offers great value for money, reducing the need for frequent replacements and optimizing your printing process.
Installing the iJetColor Magenta Memjet Ink Tank is a breeze, and it seamlessly integrates with the iJetColor Press Performance Bundle and NXT Printer, making it the best choice for busy offices and printing shops. Expect high-definition output with impeccable color accuracy, resulting in vibrant, sharp prints with every use. Elevate your business's printing capabilities and efficiency with this exceptional ink tank.
The Cyan Memjet 250 ml Ink Tank for iJetColor and NXT Printer is essential to your printing setup. It is designed with advanced dye colorants to deliver high-quality and dependable images at impressive speeds. This ink tank is a valuable asset for generating high-definition outputs with exceptional color accuracy.
It offers excellent value for businesses seeking growth, combining superior performance with cost-effectiveness. The pigment-based inks used in this tank ensure long-lasting durability, preventing any fading of your photos and printouts even when exposed to harsh conditions over extended periods.
Unleash the potential of the Cyan Memjet 250 ml Ink Tank for the iJetColor Printer, delivering stunning color and superior output quality consistently. With its long-lasting pigment-based inks, this product guarantees excellent value for your investment, making it a must-have for any business seeking to achieve exceptional print results, time after time. Embrace the power of high-quality printing with this cutting-edge ink tank!
How can compatible cartridges provide great-quality prints?
Inkjet cartridges play a crucial role in achieving top-notch prints, and compatible inkjet cartridges offer a cost-effective and dependable alternative to expensive brand-name cartridges. These compatible cartridges deliver excellent print quality while being budget-friendly, thanks to several factors.
Compatible inkjet cartridges utilize the same ink type as OEM cartridges, ensuring comparable color saturation and sharpness for photos and documents. These ink formulations often contain special ingredients that enhance print results, protect against fading and smudging in the long run, and improve performance even in low-ink situations.
Moreover, manufacturers of compatible cartridges subject their products to rigorous testing to ensure consistent, high-quality output in every batch. Many companies also provide guarantees that cover proper functioning, color accuracy, and page yield, offering consumers added assurance when purchasing replacement inkjet cartridges.
Conclusion
Compatible inkjet cartridges offer a cost-effective and high-quality solution for printing needs. These cartridges are designed using advanced technology and undergo strict quality control measures to ensure excellent prints while being budget-friendly. Our Compatible Quadient inkjet cartridges line has been extensively tested and developed to provide reliable and superior printing performance. We take great pride in offering these cartridges as an affordable alternative to OEM cartridges without compromising on quality.
Our Compatible Addressing Ink cartridges are crafted using premium dye-based ink that closely matches the color profiles of OEM cartridges. This high-quality ink dries quickly, delivering vivid colors and sharp contrasts on various printing materials. Its UV-resistant properties guarantee that prints will not fade over time, ensuring longevity. Furthermore, all our cartridges are manufactured in the USA using original OEM materials, guaranteeing consistent and dependable printing performance.
Our high-quality Compatible iJetColor by Printware Ink Tanks are specifically designed to meet the requirements of iJetColor Printer and NXT Printers. These cartridges ensure exceptional printing performance, delivering outstanding results with every print job. These cartridges flawlessly replicate the color profiles of the original OEM, producing vibrant colors and sharp contrasts on a wide range of substrates. The ink dries quickly, allowing for efficient printing, and exhibits excellent UV resistance, guaranteeing the longevity of prints. Moreover, these cartridges are fully compatible with iJetColor by Printware equipment and are backed by a comprehensive warranty, offering peace of mind throughout your printing experience.