In today's fast-paced digital era, businesses are constantly seeking innovative and efficient solutions to enhance their printing capabilities. Formax printers, known for their groundbreaking technology and exceptional full-color results, offer businesses outstanding printing solutions. Selecting suitable ink cartridges is vital to maximizing the performance of Formax printers, such as the ColorMax 7 and ColorMax 8. Mindfulpostage.com is your ultimate destination for premium ink cartridges specifically designed for Formax printers. Let's explore the advantages of utilizing Mindful Postage and how they enhance the printing experience.
ColorMax 7: Unmatched Speed and Quality
The Formax ColorMax7 Digital Color Printer is a true game-changer in the world of printing. Powered by advanced inkjet technology, this printer delivers full-color output at an incredible speed, surpassing traditional shuttle head printers by three times. And the best part? It achieves this at only one-third of the per-page cost, making it a cost-efficient choice for businesses of all sizes.
Setting the ColorMax7 apart from the competition is its state-of-the-art Memjet® print head, featuring an impressive 70,400 ink nozzles and zero moving parts. This cutting-edge technology ensures higher speeds, reduced ink and maintenance costs, and minimal noise. The ColorMax7 brings your printing experience to a whole new level with its ability to produce full-color CMYK output. With a vast palette of up to 16.8 million colors, this printer can accommodate various paper stocks and sizes, making it a versatile choice for all your creative needs. Experience the awe-inspiring beauty of edge-to-edge prints with the ColorMax7's remarkable full-bleed capability, accommodating media up to 8.5".
Furthermore, the ColorMax7 utilizes thermal inkjet technology, eliminating the need for heat or contact to create an image. With this feature, you can use pre-printed and windowed envelopes with confidence, knowing that the window or original image won't be damaged. With the ColorMax7, you can rely on its high-capacity ink tanks and fully-automated print head cleaning system to maintain consistent print quality throughout your entire printing project. Embrace efficiency and reliability like never before!
Features:
Memjet® thermal inkjet technology in full color

Ability to print 7,500 #10 envelopes per hour

Compatibility with windowed and non-windowed envelopes, invoices, etc.

1600 x 1600 dpi resolution

The palette of 16.8 million colors to choose from

Up to 8.5" wide prints with full bleed

Built-in top-load feeder

Star rollers for pressure roller transport

Support for Postscript or TrueType fonts
ColorMax 8: Unleash Your Creativity
The ColorMax8 Digital Color Printer revolutionizes printing versatility, making it a game-changer for those seeking unmatched capabilities. Experience a world of limitless possibilities with this printer that seamlessly integrates advanced inkjet technology and full-bleed, full-color printing capabilities. In addition to envelopes and addressing, the ColorMax8 can handle a variety of materials, including chipboard, corrugated cardboard, cartons, and even 3/8" thick padded envelopes.
Users have greater control over the print process with a larger printing surface and an intuitive 7" color touchscreen. The touchscreen provides image preview, system status, and easy access to standard functions and settings. The ColorMax8 utilizes the same impressive Memjet® printhead technology found in the ColorMax7, ensuring exceptional print speed, quality, and cost-efficiency.
With the ability to print up to 8,000 #10 envelopes per hour and handle media up to 10.5" x 17" in size, the ColorMax8 is ideal for businesses with high-volume printing requirements. It also features the thermal inkjet technology used in the ColorMax7, allowing for safe usage with pre-printed and windowed envelopes. Additionally, the ColorMax8 offers front access to ink tanks, making ink changes quick and hassle-free.
Features:
Flatter, Wider paper path for printing on many materials up to 3/8" thick

Full-bleed, full-color printing capability

Envelope printing and addressing

Low cost per piece and standard ownership costs

Stored jobs feature with up to 60 GB capacity for easy job recall

Enhanced top-loading media feeder with a total of up to 575 #10 envelopes

Support for materials up to 10.5" x 17" in size

Memjet® print head with 70,400 ink nozzles

Full-color CMYK output supporting up to 16.8 million colors

8.5" wide media with full-bleed capability
Memjet Ink Tanks: Our Cost-Effective Solution
Discover the superior quality and cost-effective solution of Memjet ink tanks at Mindful Postage. With 15 years of experience in manufacturing we bring our expertise to deliver top-notch ink for all your printing needs.
Before being introduced to the market, our Memjet ink tanks undergo an intensive year-long testing process, guaranteeing unparalleled performance and reliability. Engineered with plug-and-play compatibility, they seamlessly integrate into your printing setup. Our precisely formulated ink is designed to perfectly match OEM color profiles, resulting in vibrant and vivid colors on a wide range of substrates. Additionally, it offers fast drying times, ensuring efficient workflows and smooth printing processes.
Our dye-based ink is fade-resistant and UV-light-resistant, ensuring your prints retain their true colors over time. Remanufactured in the USA from original Memjet cartridges, our ink tanks offer exceptional quality at an affordable price point.
When it comes to printing, never settle for anything less than exceptional quality. Rely on Memjet ink tanks for consistent and outstanding results every single time. Visit mindfulpostage.com to experience the perfect combination of reliability, performance, and affordability.
Benefits of Using Postage Meter Ink Cartridge
Unmatched Print Quality
Formax printers like the ColorMax 7 and ColorMax 8 feature advanced Memjet® printhead technology. Pairing these printers with reliable ink cartridges like those offered by Mindful Postage is essential to ensure optimum print quality. Our cartridges are carefully crafted with water-based dye ink, ensuring vibrant and true-to-life colors that enhance every print with a visually appealing and professional finish.
Enhanced Productivity
Mindful Postage understands the demands of high-volume printing. The ink cartridges we offer, such as the Formax CJ-21 series, boast high-capacity ink tanks. With 250ml capacity for cyan, magenta, and yellow and 500ml for black, our cartridges allow for extended print runs without frequent replacements.
Seamless Compatibility
Mindful Postage is tailor-made to seamlessly integrate with Formax printers, providing a flawless partnership with Memjet® printhead technology. This engineered design ensures precise ink delivery and prevents clogs, resulting in sharp, vibrant prints every time you use it.
Easy Ink Replacement
Changing ink cartridges should be hassle-free, and Mindful Postage excels in this aspect. Experience effortless access and replacement of ink cartridges with the convenient clamshell design. This user-friendly feature saves valuable time and minimizes interruptions, empowering businesses to concentrate on their core tasks with uninterrupted efficiency.
Cost-Effective Solution
Mindful Postage offers an economical choice for businesses. Benefit from our cost-effective solution with competitive pricing and high-capacity ink tanks, catering to the high-volume printing needs of businesses. By reducing the cost per page, our ink cartridges help businesses save on printing expenses without compromising quality.
Our ColorMax 7 / ColorMax 8 Products
Discover the Formax CJ-21 Cyan (250ml) Ink Tank, the ideal companion for your ColorMax 7 and ColorMax 8 Digital Color Printers. Experience the brilliance of vibrant cyan shades that breathe life into your prints thanks to this exceptional dye-based thermal ink. With its advanced formulation, expect stunning image quality, precise details, and unwavering reliability. Elevate your printing experience to a whole new level with the Formax CJ-21 Cyan ink tank, unlocking the full spectrum of colors on various paper stocks.
Unleash a world of possibilities with the Formax CJ-22 Yellow Memjet Ink Tank, designed exclusively for the ColorMax 7 Digital Color Printer. This ink tank opens up vibrant yellow shades, allowing you to create stunning prints. With a complete set of four color ink tanks – Cyan, Yellow, Magenta, and Black – you can harness the power of 16.8 million colors on various paper stocks. Embrace high-quality printing with this dye-based thermal ink, and remember, CJ-22 is your reliable product number for added convenience.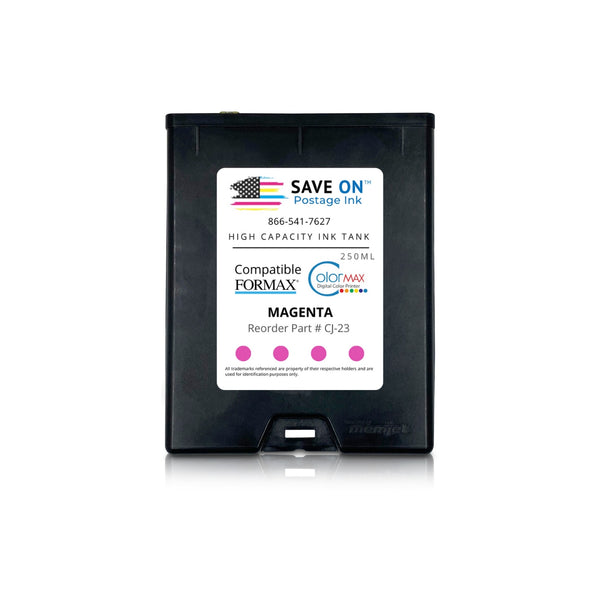 Embark on a journey of vibrant and precise superior image quality prints with the Formax CJ-23 Magenta (250ml) ink tank. This dye-based thermal ink is expertly crafted for seamless integration with the ColorMax 7 and ColorMax 8 Digital Color Printers, bringing captivating colors like hot pink, fire engine red, and maroon to life. With its wide compatibility and robust warranty, Formax CJ-23 becomes the trusted choice to elevate your printing capabilities to new heights.
Discover the Formax CJ-24 Black (250ml) Ink Tank, an indispensable component for your ColorMax 7 and ColorMax 8 Digital Color Printers. Immerse yourself in the remarkable power of this dye-based thermal ink, delivering deep and rich black shades that add incredible depth to your creations. Unleash the full potential of 16.8 million colors on diverse paper stocks, taking your printing experience to a whole new level of brilliance. Place your trust in the CJ-24 for unrivaled black excellence and experience the true artistry of your prints coming to life.
Conclusion
Unlock the true potential of Formax printers with confidence, as Mindful Postage is your trusted source for reliable ink cartridges. The perfect companions for Formax printers, including the ColorMax 7 and ColorMax 8, are these ink tanks, with their excellent compatibility, superior print quality, and high-capacity design. By choosing Mindful Postage compatible Ink Tanks for the ColorMax 7 & ColorMax 8, businesses can achieve exceptional printing results while optimizing productivity and controlling costs. Explore the diverse range of Formax ink cartridges at mindfulpostage.com and unlock the colorful printing potential of your Formax printer today.